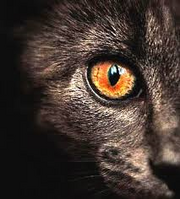 Shard
is
Black tom with many battle scars and orange eyes
Shard

Picture of cat (Required)

Allegiances
Current Allegiance
(Include Link)
Past Allegiances
(Include Link)
Names
Names

Kit: Shard

Rouge: Shard

Loner: Shard

ECT.

Family
Mother
Unknown
Father
Unknown
Littermates
Mate
Kit(s)
Education
Mentor(s)
Apprentice(s)
Status
Status
(Alive, Dead ______ member
Role-Player
Role-Played by
(Your Username with Link)
InformationEdit
He is ruthless and enjoys the pain of others, he used to be in a rogue group along with Jet and another cat named Spike (leader of the group), but when Spike died they split up and became loners.
(Write Here)
PersonalityEdit
(Write Here)
(Write Here)
Mother: (Write Here)
Father:
Brother(s):
Sister(s):
Son(s):
Daughter(s):
ECT.
Ad blocker interference detected!
Wikia is a free-to-use site that makes money from advertising. We have a modified experience for viewers using ad blockers

Wikia is not accessible if you've made further modifications. Remove the custom ad blocker rule(s) and the page will load as expected.